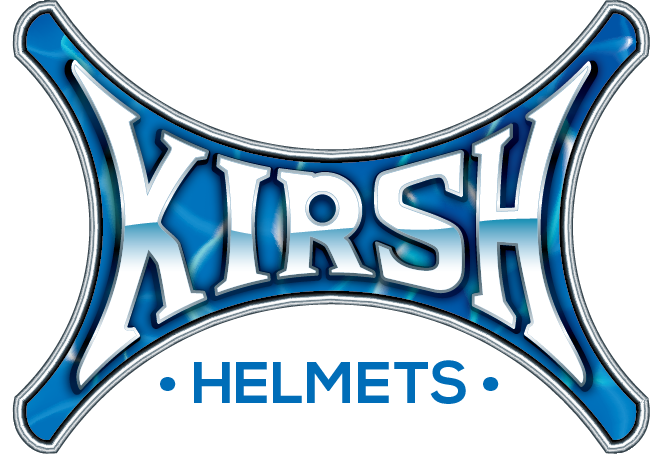 Real Helmets for Real Riders
MADE IN AMERICA BY VETERANS and DISABLED AMERICANS
"The PROOF IS IN THE RIDE! This is one of the best helmets out there."
REAL TESTIMONIALS FROM REAL RIDERS, DEALERS AND FANS
MARIO CRIM (CHOPPER SHOW)
MIKE "NOZZELNUT" FOURTH WATCH MC
CHRIS "KICKSTAND" FOURTH WATCH MC
MADE IN AMERICA BY VETERANS AND AMERICANS WITH DISABILITIES
KIRSH HELMETS HONORS OUR VETERANS
KIRSH Helmets would like to take a moment to thank all of those who have served and protected this great nation. We truly appreciate everything you have done and sacrificed to make this Great Land of ours what it is today! We would also like to take a moment to thank all of those who have lost their lives in service to America. Thank you all to the families of our lost patriots.
We would like to thank Wolf Critton for the accompanying video and taking the time to ride with a KIRSH Helmet. Thank you for your kind words. We will ALWAYS remember!
KIRSH Helmets has also been awarded the HIREVets Gold Medallion for our efforts in hiring veterans in the workforce.
God Bless America and those who continue to protect our Great Nation!
WE SALUTE YOU!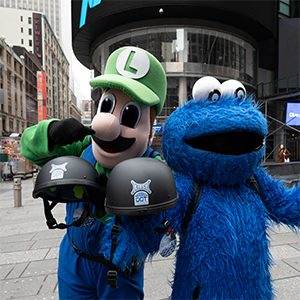 " Boopty Boppity Bipiddy! I gotta tella Mario abouta disa newa helmet! Itza gonna make a bigga difference when he gotta busta soma brick. Asa fo me, I'ma go take a dis helmet fo a testa spin. Itza gonna also keepa me cool when I go ride ina Florida thisa summer. I canna no wait to tella all my friends on the Mario Racing circuit abouta dis amazing newa technology from all my paisans at KIRSH Helmets. Great job. Bravo my friends.
In a hand gesture, tell us what you thought about the the KIRSH CHM-1 Motorcycle Helmet. 
Click on the video above to see what he thought after just his very first ride.
Mike was wearing a CHM-1 with a prototype print of our Metallic Blue with the LOST SOULZ™ print. The club loved this style so much they ordered a bunch in this style.
RIDE ACROSS AMERICA PREVIEW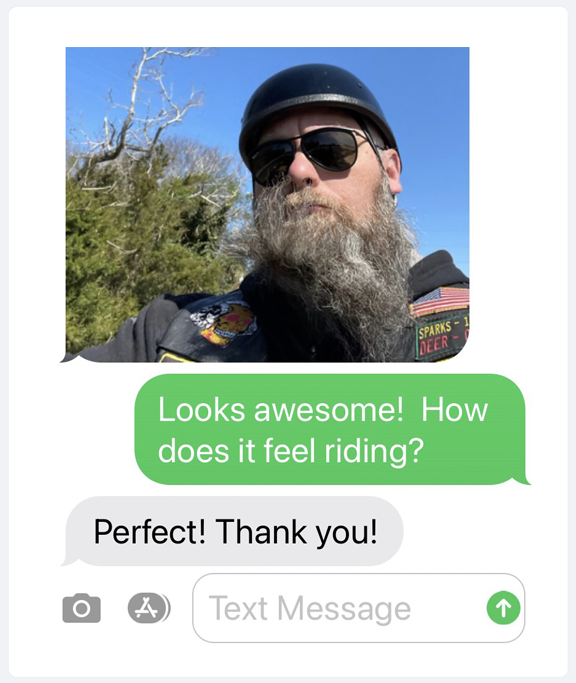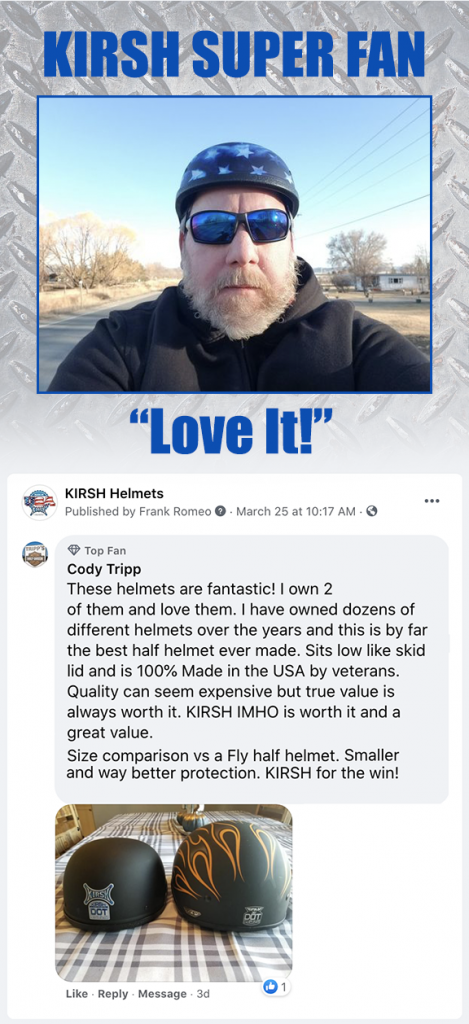 The ONLY DOT-Certified half helmet 100% MADE and assembled in the USA!
Finally, you don't have to sacrifice style and comfort for a DOT-approved Low Profile Helmet. The KIRSH CHM-1 is all that and more.